ENOUGH produces ABUNDA® mycoprotein, a complete food ingredient containing all essential amino acids as well as being high in dietary fibre
Please introduce yourself and your startup ENOUGH to our readers!
ENOUGH is a food-tech company whose purpose is "to make protein sustainable" and we passionately believes in the merits of fermentation as the most technologically and economically viable solution to sustainably feed a growing global population.
As CEO, Jim Laird has 30 years' experience in food with roles for Unilever, PepsiCo and Premier Foods and is motivated by the combination of innovation, biotechnology and collaboration to create sustainable large-scale food solutions. Jim celebrates the potential for the food industry to work together to firstly reduce reliance and then remove the need for animal-based products, but acknowledges the need for continued improvements in non animal based foods.
Jim co-founded ENOUGH (formerly 3F BIO) in 2015 and feels massively privileged to work with a team who span 3 location and 12+ nationalities and who are motivated by a collective purpose "to do something where the impact is bigger than us". Enough's goal is to grow 1 million tonnes of high quality protein based in the next decade and commence this from a first site in the Netherlands.
ENOUGH are building what we hope will become the World's largest protein facility and we started production and supply during 2023. We use fermentation to covert glusose into protein and fibre using fungi. Fungi are nature's bioreactors, and in our first facility we grow the equivalent of 5 cows worth of protein every hour. This first facility is located in the Netherlands where we co-locate on a site owned by Cargill, and where our long terms plans include future growth to make a cow equivalent every 2 minutes by the end of the decade, or over 60k tonnes per year.
How did you get the idea of ENOUGH?
The idea for using fermentation as an efficient way of growing food has been around for a long time, and one of the attractions of mycoprotein is that it has a long history of safe use. ENOUGH has some IP that makes the process more efficient and that Idea came from the co-founders of ENOUGH – Craig Johnston and David Ritchie – who both have a background in chemical engineering, and a passion for resource efficiency.
The idea was developed over several years from 2012-2014, validating the concept at lab scale using labs at the University of Strathclyde in Glasgow, UK.
Why did you decide to start with ENOUGH?
In 2014 once the patent was filed, the co-founders, comprising Craig (Johnston) and Daivd (Ritchie) combined with Jim Laird, were all employed in other organisations but were working together on a part time basis (evenings and weekends) to progress the technology. We created a company so that we could start to look at commercialisation options and the entity was founded in January 2015. Over 2015 we then secured some early grant funding and hired a first employee. By the end of 2015 as we started to confirm the potential both commercially and technically, Laird joined the business on a full time non-paid basis and in 2016 the Company raised its first equity round.
What is the vision behind ENOUGH?
Enough's goal is to grow 1 million tonnes of high quality protein based in the next decade and commence this from a first site in the Netherlands. We want to do something that is "bigger than us" and see the potential to create something that genuinely transforms the way that we grow and produce protein and has a very positive impact on human health and on the climate.
How difficult was the start and which challenges you had to overcome?
For any early stage business there are always challenges. ENOUGH has been blessed to have support from a strong team and from excellent shareholders who have supported the company with funding and with advice. The words and guidance from one investor that resonates most strongly are "Never let a good crisis go to waste", and in the last 8 years we have certainty faced several crises but this always makes the company stronger.
In recent years, the challenges from Covid, from remote working and from the inflationary impact of the war in Ukraine have presented real challenges. We have overcome most of these by staying very focussed on our long term goals and by making the hard choices about what really has to be done versus what we would like to do.
Who is your target audience?
Our product offer remains very focussed on supplying a B2B ingredient, where we supply ABUNDA as a frozen ingredient to be used by customers to make delicious meat and dairy alternatives. Our in house development team have worked with development partners to show-case the types of products that can be made and in this time we have really focussed on chicken style whole muscle products because that was an area where some of the other products were not meeting consumers needs. Our vegan chicken recipe contains only 5 ingredients and delivers a sensational product.
We are encouraged by significant interest from both the retail and foodservice trade channels in Abunda based products, which is in turn creating huge levels of attention and experimentation by food manufacturing companies. We are proactively working with some high scale food manufacturers on a strategic approach that best optimises sales opportunities in target markets and this will remain our main point of focus, however we are also aware of lots of exciting smaller companies who are driving product innovation and enhancing interest and the profile of the category, we will always find the resources to support this invaluable cutting edge development within the alternative protein marketplace.
What is the USP of your startup?
ENOUGH's product Abunda® mycoprotein is a solution to make great tasting food that both provides an alternative and removes the need for the unacceptable impacts of intensive animal farming. This addresses demand for non-animal protein that is forecast to grow by +15k tonnes every day for the next 5000 days. ENOUGH's current plans are not enough to meet a relevant share of this but with collaboration, we embrace the opportunity to go further and faster.
ENOUGH is a leader in making protein from fungi. What sets us apart is our focus on introducing high scale capacity that will serve the market on a B2B basis and with the ability to grow in line in line with the growing market.
We are competing in the global market for food protein, which continues to be dominated by animal sources of protein. As the protein transition continues there is a need for non animal sources that make food that tastes as good or better and costs the same or less than the animal, and our process achieves that aim
To become the category leader, we need to meet customers and consumers expectations and then grow in-line with the market. With this investment we will double the capacity at our first location in the Netherlands in the next year and expect to double again in the years thereafter. In addition, we will actively look at a second territory which is most likely to be North America, but where there are also good arguments to look at facilities in Asia, the Middle East and elsewhere.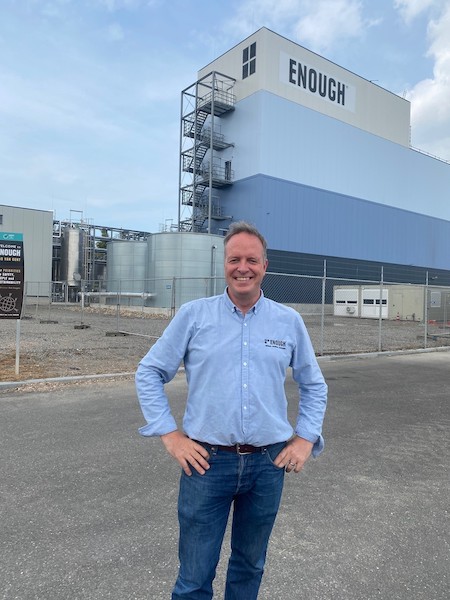 Can you describe your typical workday ?
In the last year, a typical day will often start waking up in a hotel room as I spend at least 50% of my time in the Netherlands at the production site. I enjoy too much coffee and will typically skip breakfast.
If working at the site I will be in early, but never as early as our Site Director Rob Cogghe who is always first on site. As the production site runs 24×7 the start of the day involves catching up with the shift leads and the team on site.
After that there are various meetings that are schedules through the day and the week on a fairly structured time plan. We try to have short and efficient 'scrum' meetings. As a leadership team we also try hard to ensure good communication and over invest in this. The company has 60 people and we have a full company 15 minute Monday morning scrum to highlight plans for the week and repeat this later in the week to cover the longer term horizon.
Within my role, I have responsibility for all areas and so have functional updates with various team members. An ideal day would involve some customer contact, not just because I get real energy from customer discussions but also because that generally involves some product tasting. Although we are an ingredient company our in house development team have also developed some excellent product applications including whole muscle vegan chicken fillets, meatballs, schnitzels, and even some fish alternatives.
I try to be home (North of London) at least 2 to 3 nights per week, and almost always by Friday night. With 3 children aged 16,18,19 I am hugely indebted and respectful to my wonderful wife Ceri, who re-energises me with long cycle rides and dog walks over the weekend.
Where do you see yourself and your startup ENOUGH in five years?
Within 5 years, I see ENOUGH producing in 3 locations (Europe, North America, Asia) with close to 100k tonnes of installed capacity, which will put us on track to achieve our goal of 1M tonnes produced in 10 years. To do that we absolutely need to maintain our philosophy of collaboration, with supply and demand partners.
To achieve this we need to continue to strengthen the Team, and we also need to ensure we are true to our values which include:
Integrity – Professionalism, Respect, Do the right thing
Impact – Making a difference, Achieving high scale
Team – Collaborative, Trust, Empowerment
Passion – Energy, Motivation, Pride
Family – Doing things right, taking responsibility, caring
What 3 tips would you give to founders?
Do what you love and something you can be passionate about
Your team is your most important asset and always try and recruit someone who can be better than you.
Trust is the thing that will superpower your organisation.
Thank you Jim Laird for the Interview
Statements of the author and the interviewee do not necessarily represent the editors and the publisher opinion again.