Neutroon is a cloud platform simplifying advanced connectivity of machines and humans with cloud/edge applications at scale.
Please introduce yourself and your startup Neutroon to our readers!
I grew up in Osorno, a small city near the entrance to the Patagonia region in southern Chile. After becoming an industrial engineer, I joined McKinsey and engaged in M&A transactions with multinational corporations across Latin America. Later on, I delved into the startup ecosystem by joining as a C-Level renewables company, which grew from a mere startup to a company valued at $100 million.
I then shifted to Barcelona with my wife, spurred by the thriving tech startup scene in Spain and Europe. After finishing an MBA at the IESE Business School, I decided to found Neutroon together with Alberto Villalobos from 5G Ventures. Neutroon is a cloud platform simplifying advanced connectivity of machines and humans with cloud/edge applications at scale. Think about connecting hundreds of autonomous robots to an AI application. We make that simple for our customers. 
How did you get the idea of Neutroon?
My original vision for Neutroon was completely different from what it is today. I sought to develop a product for smart cities that would enable the deployment of networks and offer the capacity on-demand to third parties. However, we quickly realized that the timing wasn't suitable for this type of product. The market for private networks was growing rapidly though, so we switched the focus of Neutroon to focus on private 5G, delivering our first network in August 2021. We haven't looked back since.
Why did you decide to start with Neutroon?
I mentioned my early role in the startup world was with Anpac, a renewable energy firm. This was an enriching journey which fueled my ambition to establish a venture of my own. After participating in an accelerator at Singularity University, I moved to Barcelona along with my wife to tap into the opportunities present in the tech startup ecosystem of Spain and Europe.
I began collaborating with a team including Alberto Villalobos, a seasoned tech professional with a passion for fostering new entrepreneurs like myself. His mentorship paved the way for my foray into novel areas, subsequently leading to the inception of Neutroon. I realized the potential that 5G and its convergence with other technologies like cloud, edge and AI will have in our lives and got excited to build something in the space
What is the vision behind Neutroon?
By offering cutting-edge connectivity between IoT devices and apps in the most effective, reliable, and affordable way possible, Neutroon strives to make it easier for organisations to grasp and embrace the power of 5G and edge computing. As a B2B service, we primarily target corporations in the infrastructure, energy, healthcare, logistics, and manufacturing industries as well as large and midsize connectivity providers including telcos and system integrators.
How difficult was the start and which challenges you had to overcome?
Some of the main challenges were getting a reliable team in place and, for me, balancing personal and professional relationships. They can become mixed and emotionally taxing when one is also trying to run a business. Having to make tough decisions and prioritising things can also pose a challenge, and success can only come with many sacrifices.
Who is your target audience?
Neutroon's clients work within telecommunications, system integration, and infrastructure sectors. Some of our customers include major corporations such as Fujitsu, Ferrovial, and Vantage Towers.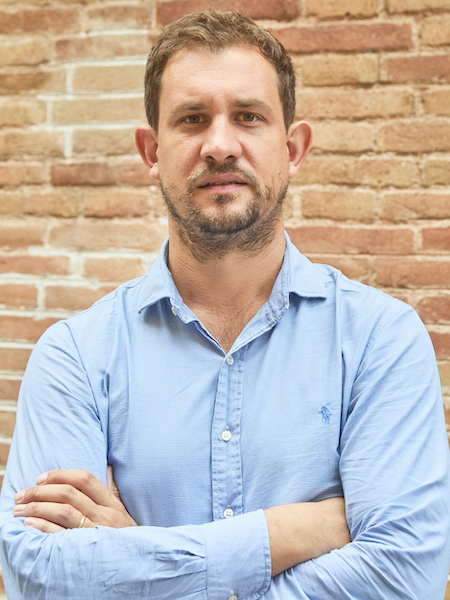 What is the USP of your startup?
Neutroon enables enterprises to run private 5G wireless networks in a simpler and very scalable way. These networks operate on an exclusive wavelength that is not shared by common domestic and business communications networks, enabling more reliable and faster data transfer speeds and reduced latency. Our platform gives enterprises straightforward tools for controlling and modifying all their internal 5G networks from a single pane of glass and API.
The fact that 5G is the world's first programmable wireless network is what makes this possible for the first time in history., Neutroon can adjust the networks on-demand via APIs to provide the most reliable experience we can imagine.
Can you describe your typical workday?
My typical workday starts with a cup of coffee and my laptop in my living room. I enjoy the silence and calm in the morning before my 2 kids wake up. It gives me time to put my ideas in order and plan for the day ahead. Once the kids are up I spend some time with them and bring them to school. After that, the day becomes non-stop for me! There are lots of virtual meetings, mostly with potential partners, customers and investors, apart from the 1-on-1s with my team; I try to concentrate these meetings on a Monday.
Lunch is always on the go or replaced by coffee, not the most healthy diet, I know! I usually finish work at around 7 pm, put the kids to bed, have dinner with my wife, and then I usually spend 1-2 more hours at night scratching off the last items of my to-do, doing follow-ups and reading the latest industry news. 
Where do you see yourself and your startup Neutroon in five years?
I believe Neutroon is well-positioned to become a major actor in this growing space of more open and flexible private 5G networks. The operational model is changing and big players need to adapt to a distributed architecture where platforms like Neutroon are required for reaching scale and efficiency. We have bold plans for the future. This year, for example, we have launched in the US and are on track to achieve significant milestones and growth there.
We currently have 24 staff members and we hope to expand our numbers to 30 by the end of this year and reach 50 by 2024. To achieve these goals we are currently planning a €4.5 million funding round to be closed by the end of this year. A major strategic investor has already committed part of the round and we are inviting more investors to join.
What 3 tips would you give to founders?
Never stop networking: The number of people I have met on LinkedIn and at industry events in a short period of time is insane; in fact, one of our biggest early deals originated when I sent a LinkedIn message to a business leader I admired after watching one of his webinars. A year later, we were on stage together and his company was an investor in Neutroon. 
Never stop learning: The industry is constantly evolving and it is hard to keep up with all of the new features coming out. Put processes in place to learn continuously from the top minds out there
Have an ecosystem view: With hyper scalers getting into the business, and retailers launching 5G services, it's vital to have an open mind and explore partnerships even with those that may be your competitors. 
Thank you Chris Gehlen for the Interview
Statements of the author and the interviewee do not necessarily represent the editors and the publisher opinion again.